About
Shri Shankaracharya Institute of Medical Sciences
The First Medical Institution in India to be named after Adi- Shri Shankaracharya and blessed by all present Jagadgurus.
SHRI SHANKARACHARYA INSTITUTE OF MEDICAL SCIENCES is managed by SHRI GANGAJALI EDUCATION SOCIETY which has as its member, an outstanding technocrat & educationist. The society has been running and managing a number of educational institutions offering UG/PG courses in Engineering & Technology/Pharmacy/Management/Computer Applications /Education/Nursing /Arts/Commerce/Science and from KG1 to 12th Exam. The Society has all the where withal to run the medical college strictly adhering to the norms/standards/guide lines as prescribed by MCI. The proposed Shri Shankaracharya Institute of Medical Sciences in the region is the first Medical Institution in India to be named after Adi- Shri Shankaracharya and blessed by all present Jagadgurus.
The paramount objective of the hospital is to serve to humanity. We have a sense of social responsibility, human values and concern for environment. Not only do we strive to train the students to become excellent doctors, thinkers and leaders of the society, but also help them to mould themselves into better human beings. The President of the Society, Shri I.P. MISHRA, an eminent technocrat and a distinguished educationist of the state, has been instrumental in the promotion and development of technical and medical education for the benefit of students and the state. Its hospital has earned the reputation of being one of the best hospitals in this area which offers medical treatment at an amount easily affordable to all sections of society.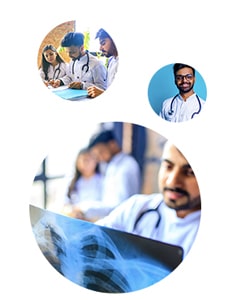 Our Vision
Our Vision is to be among the best academic health centers in the nation in research, medical education, and excellence in patient care so that the poor and marginal sections of society get medical treatment at affordable amount and so that the state become the hub of medical education and research. Our vision statement sets a target for our organization to train competent, compassionate and caring physicians with social vision through excellence in teaching, patient care and medical research.
Our Mission
Our mission is to promote medical education & medical research in the state of Chhattisgarh which came into existence fifteen years ago, has maegre facilities in this field.