About
Shri Shankaracharya Institute of Medical Sciences
The First Medical Institution in India to be named after Adi- Shri Shankaracharya and blessed by all present Jagadgurus.
Chairman of SSIMS, Shri I.P. Mishra, an eminent scholar, has been instrumental in his contribution towards the field of education. His contributions have benefited numerous students in shaping their bright future and the community by providing selfless services through the health care sector.
SSIMS has been recognised for its teaching-learning achievements and received the "Twin City Education Excellence Award for Leading Private Medical Institute in C.G." by the Governor in 2022.
SSIMS is committed to serving the community and provides excellent learning opportunities for Indian medical graduates towards community-based health care, thereby enhancing equality in health.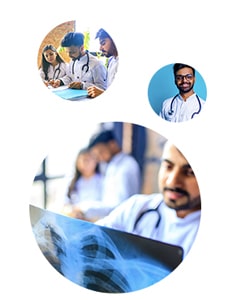 Our Vision
To be the foremost academic health institution in the country and to outshine in the fields of research, education, and health care.
Our Mission
To deliver health care that is accessible and affordable for each and every person in the community and to train a competent and compassionate health care brigade to serve the community.
Respect rich traditions and deep-rooted values and selflessly serve humanity.